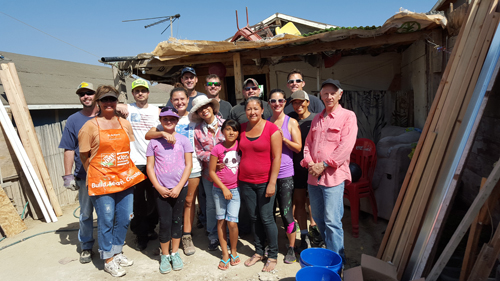 Design
On Saturday, October 3, 2015, for the 16th year in a row, a large group of real estate professionals took time out of their busy schedules to build 16 homes for the less fortunate in Mexico, just south of the San Diego Border.

Please contact Devin Beale with any questions you may have or for information on the upcoming 2016 event, which will be taking place Saturday, October 1, 2016. We'll have more details soon; in the meantime SAVE THE DATE!
Who: Open to all real estate related companies (no construction skills required):
Commercial Real Estate Brokerage, Construction Companies, Architects, Banks, Title Companies, Residential Brokerage, Developers, and Real Estate Organizations.
Where: In the countryside near Tecate
Each house is built for an eligible family who owns their small lot (qualified by Project Mercy). We typically meet at the Otay Mesa Border at 6:00 AM (see directions). The directions link also includes information on the ID requirements for crossing the Border.
Why: A wonderful opportunity for us to give back to the community and to work with colleagues in our field.

Below are a few photos from the 2015 event. For more information, please contact: